Ah reading. It's become one of my favorite things to do. Whether it's in the morning with the windows open and a warm cup of coffee in hand, of in the evening before bed under warm blankets and dim lights.
I remember reading as a kid and loving it. The escape each book held, the stories it felt like only my eyes could see, the characters and how close I felt to them. I loved books, and remember getting excited when I pulled one off the white book shelf in my room that housed the stories.
I stopped reading for pleasure right around the time I graduated high school. When society began instilling that the most important next step was to get educated, not through the books I found on my shelves, not through lived experiences, but through colleges, universities… stereotypical education.
Soon, reading for pleasure vanished as I worked to pay for college, studied to get on honor roll and buried my head in textbooks. The fiction books on my bookshelves grew dusty as I stopped visiting book stores, stopped reading entirely and forgot the beauty of the escape I could find simply by cracking the spine.
To say I only started reading again after my miscarriage would be a lie. I've read sporadically as an adult, but haven't felt that true escape until I miscarried, and desperately needed to escape from the tragedy that had become my life. I started slow, borrowing some books from a friend, forcing myself to sit on the couch and read 10 pages. "Let yourself escape." I actively gave myself permission to leave my life for a while.
And soon, I was engulfed in stories, different lives, worlds I didn't exist in, but desperately wanted to. I fell back in love with reading fiction. I devoured books quickly, and never once felt homesick for the my life. I was happily encompassed in between the front and back cover, blissfully living someone else's story.
This brings me to the question- Do I think everyone should escape sometimes? Yes, yes 100% yes. The world we live in right now is nothing short of terrifying. And though there is so much beauty left in the world, I don't think there's anything wrong with travelling into a book and not looking back for a little while.
Here are my top 3 books of 2021. These helped me escape for a little while, and I think they're books that everyone should read once in their life.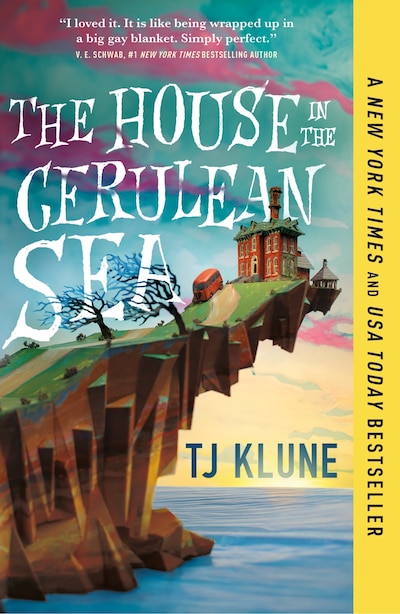 The House in the Cerulean Sea by TJ Klune
This book is easily one of the best books I've ever read. It's whimsical, charming, and to it's core demonstrates the love every human (or creature) is capable of. It has essence of "A Series of Unfortunate Events" and "Miss Peregrine's Home for Peculiar Children." But, in my opinion, is so much better. Written by a LGTBQ+ author, I can understand why the romance in the book feels authentic, unforced and true. The characters, the scenery, the underlying message that we are more than our worst qualities. A fantastic read for anyone who's ever felt like "the bad kid", has struggled to find family, or just wants to cry happy tears. I teared up and hugged this book when I finished it and will cherish it on my bookshelf forever. This is definitely a book I feel emotionally attached to, and I can only hope Klune's next read is 1/10 as good as this one.

The Midnight Library by Matt Haig

This book was easily devoured. I read it quickly, and loved every minute of it. It's a reminder that the grass certainly isn't always greener on the other side. It shows us that even in our darkest times, when we think we could have done differently, or better, what we have right now is likely better than anything else we could have had, had we made different choices. It allows you to escape into the main character, Nora's, different lives, had she made different choices. It will leave you feeling thankful for the life you have, and hopeful for whats to come. And, it will serve as a reminder that we are more than our regrets.
The Five People You Meet in Heaven By Mitch Albom
The book was the first book I read post-miscarriage. I was grasping onto the idea that a heaven could somehow exist somewhere out there. This story, of a man who lived what he thought to be a mediocre, pointless life gave me hope in my darkest time. The Five People You Meet in Heaven follows a man through the story of his life, how his choices impacted those around him and is a great reminder that everything we do affects everyone around us. Albom captured what it feels like to live a mundane existence, and left me loving the main character, Eddie. Eddie had the opportunity to meet 5 people after he passed away, and as I read the book, I just hoped if this was somehow true, one of my 5 people would be the baby we lost. A must read for everyone.
I hope you can find bliss between pages. Comment your favorite books!? I'm always looking for my next escape.
xo TJ